2012 - 2014 Mitsubishi i-MiEV
| GAYOT Rating | |
| --- | --- |
Fuel-Free Hatchback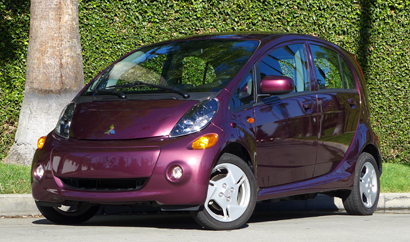 In short: A cute, city-friendly electric vehicle.
2012 - 2014 Mitsubishi i-MiEV Review
While the Mitsubishi i-MiEV's small size is sure to garner some scoffs, city-dwellers will appreciate the convenience this all-electric subcompact has to offer. Powered by a 66-horsepower AC synchronous permanent magnetic motor, the i-MiEV has a range of 62 miles and earns an impressive 112 MPGe combined. Thanks to a $6,130 price cut for 2014, which, combined with a federal tax credit, pushes its effective price down below $15,000, the Mitsubishi i-MiEV is one of the most affordable ways to zip around your city in a zero-emissions vehicle. (The others, so far, being a bicycle and a pair of shoes. But then, your shoes probably don't have a hard-drive navigation system or bluetooth capable stereo.) It's no Tesla, but the i-MiEV is fun to drive, in golf-cart kind of way. Visibility is decent, and the simple, no-frills interior is relatively comfortable. There is plenty of space inside this electric vehicle but you must calculate your trips carefully due to the limited range. Though the EPA rates it at 62 miles, it's easy to drain the battery far quicker, especially if you drive at highway speeds or use the air conditioner. Thus, the i-MiEV is best suited for errands around town and urban commutes. However, for a metropolitan runabout, there is a lot to recommend the i-MiEV. Our raspberry metallic with dark brown interior was a darling of a five door hatchback. Comfortable, efficient, and intuitive to operate, the i-MiEV may have seemed in some ways like a golf-cart for the road, but it was a very refined and functional golf cart. Driving around town, we actually finished certain trips with the same amount of indicated available miles as at the beginning of them. Due in part to the Mitsubishi i-MiEV's regenerative braking systems, it is possible with careful and conservative driving to use very little energy going down city streets. Charging is done via a portable 110 V, 8 amp charger that can fill the battery in 22 hours, or a 220 V home charger that can do it in 7. Far from being the harbinger of a dystopian future in which we are all forced to ride in dinky, self-driving pods, the i-MiEV makes an economical and practical alternative to a second car for city-dwellers.
Warranty/Service: 3-year/36,000-mile new vehicle limited warranty; 5-year/60,000-mile powertrain limited warranty; 8-year/100,000-mile main drive lithium-ion battery warranty
Related content:
See who is producing electric cars
You can click on each photo to enlarge
| | |
| --- | --- |
| QUICK SHEET | Base Price: $31,125 / As Tested: $35,765 |
Technical Specifications

Vehicle type: front-engine, rear-wheel drive, 4-passenger, 5-door hatchback

Engine: AC synchronous motor
Horsepower: 66 hp
Torque: 145 lb-ft
Transmission: single fixed reduction gear

Curb weight: 2,579 lbs
Wheelbase: 100.4 in
Length/Width/Height: 144.8 / 62.4 / 63.6 in
Turning circle: n/a

Brakes: 4-wheel disc brakes with ABS
Suspension: MacPherson strut front; independent rear

Traction: electronic stability control with traction control

0-60 mph: 13 seconds
60-0 mph: n/a
Top Speed: 80 mph

EPA City: 126 mpg
EPA Highway: 99 mpg
Combined MPG: 112 mpg

Seating Capacity: 4
Safety: dual-stage front airbags; front side-impact airbags; front and rear curtain side airbags


Likes: Space distribution

Dislikes: Limited range

Check out other Mitsubishi models
Visit the Mitsubishi website
Photography: AlphaMedia
Comments
comments