2014 Buick Verano Turbo
A Chicos on Wheels
In short: A turbocharged, front-wheel drive luxury sedan
2014 Buick Verano Turbo Review
Buick's entry-level premium model, the Verano turbo starts just under $30,000 and is powered by a 2.0 liter ecotech 4-cylinder turbo engine making 250 horsepower. There's little to visually distinguish the turbo trim from other, more sedate Veranos, only a small red "T" badge and some lettering on the plastic engine cover. Thus, the Buick Verano turbo is somewhat of a sleeper. It's also a sleeper in terms of ride-quality, quietness, and overall driving excitement. Though Buick has been quietly reimagining itself, in the wake of Pontiac's demise, as a sportier brand, the Verano we drove exhibited plenty of the traditional Buick virtues of solidity, quietness, and cushy ride quality. Unlike the sporty Buick Regal GS, with its flashy rims and Brembo brakes, the Verano turbo provides a more sedate experience, similar to the base-model Verano. Thanks to its ecotech 2.0 liter turbo, our White Diamond test car was also relatively quick, though its 6-speed automatic was sluggish to downshift and wanted to skip gears when upshifting, potentially in an attempt to reach the Buick Verano Turbo's EPA fuel economy figures of 21 mpg city/ 30 highway. In our driving, which included some heavy traffic, we didn't come close to that, reaching only 17.8 mpg.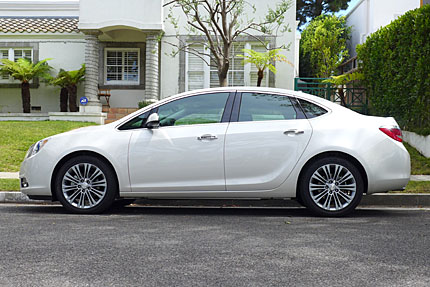 If, in your entry level luxury/ near luxury car shopping, you value comfort and convenience, and don't mind a ride that isn't as sporty as some competitors', the Verano Turbo could represent an excellent value.
Warranty/Service: 6-year/70,000 mile powertrain warranty, 4-year/50,000 mile bumper-to-bumper warranty, 2 year/24,000 mile scheduled maintenance
You can click on each photo to enlarge
| | |
| --- | --- |
| QUICK SHEET | Base Price: $29,065 / As Tested: $32,380 |
Technical Specifications

Vehicle type: front-engine, front-wheel drive, 5-passenger, 4-door sedan

Engine: 2.0 liter 4 turbo
Horsepower: 250
Torque: 260
Transmission: 6-speed automatic

Curb weight: 3,52 lbs
Wheelbase: n/a
Length/Width/Height: n/a / n/a / n/a in
Turning circle: 36 ft

Brakes: F:R Vented disc/ disc. ABS
Suspension: F:R: MacPherson strut, anti-roll bar/ Watts Z-link, anti roll bar

Traction: stabilitrak traction control

0-60 mph: 6.2 seconds
60-0 mph: 122 ft
Top Speed: n/a

EPA City: 21 mpg
EPA Highway: 30 mpg
Combined MPG: 24 mpg

Seating Capacity: 5
Safety: Driver and Front passenger front, knee, side impact and head curtain airbags, rear side impact and head curtain airbags


Likes: Quietness, ride

Dislikes: sluggish transmission, disappointing fuel economy

Check out other Buick models

See all of our Automobile Reviews

Visit the Buick website
Photography: AlphaMedia
Comments
comments
Flu season is upon us! Get proactive about your health with these all-natural immune system boosters from around the world.
Handcrafted using only the finest cocoa, GAYOT's Top 10 Chocolate Bars are a far cry from your typical checkout lane candy fix.