2014 Fiat 500e
The Quiet Italian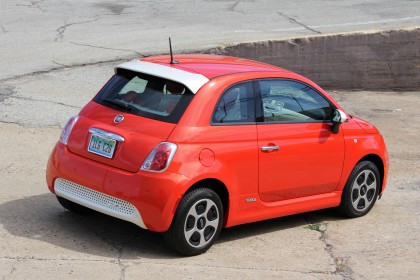 In short: An efficient, urban electric car
2014 Fiat 500e Review
Powered by a 111 horsepower electric motor delivering an EPA rating of 116 mpg equivalent, the Fiat 500e makes a compelling choice as a city car. Aside from a few small details, wheels, and the lack of a tailpipe, the 500e is almost indistinguishable on the outside from a regular, gasoline-powered Fiat 500.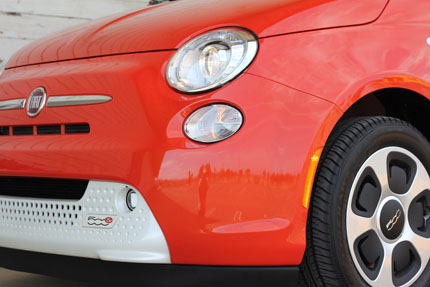 The 500e also preserves the basic driving experience of a Fiat 500, aside from the sound. In acceleration tests, the Fiat 500e reached 60 mph in about 8.4 seconds, over a second faster than a base 500, and about a second behind the turbocharged Abarth version. The electric motor's instant torque actually does a lot to overcome the underpowered feeling of the standard Fiat 500. Our "electric orange" test car scooted into traffic easily, and was simple and intuitive to drive around crowded Los Angeles streets.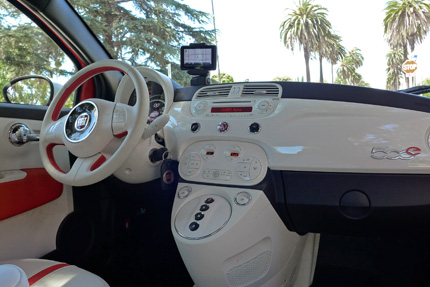 For many Americans, the phrase "Italian car" evokes an image of impractical, unreliable red sports cars designed with a passion as hot as the steam billowing from under their hoods as they wait to be towed away. The Fiat brand's return to the states has already done a lot to dispel that image, and the 500e goes a step further. It's the quiet Italian, a comfortable, air-conditioned way to get around the city while using no gasoline. The Fiat 500e may not be sporty, but it retains the style and visual character of its internal combustion siblings, while actually providing a more refined driving experience.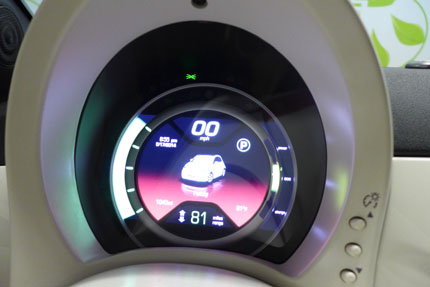 Warranty/Service: 4 year/ 50,000 mile basic warranty, 4 year/100,000 mile electric powertrain warranty, 8 year/100,000 mile battery warranty.
You can click on each photo to enlarge
| | |
| --- | --- |
| QUICK SHEET | Base Price: $31,800 / As Tested: $33,495 |
Technical Specifications

Vehicle type: Front engine, front wheel drive, four passenger hatchback

Engine: Permanent magnet AC synchronous electric motor
Horsepower: 111
Torque: 147
Transmission: 1-speed direct

Curb weight: 2,952 lbs
Wheelbase: 90.6 in
Length/Width/Height: 142.4 / 64.1 / 60.1 in
Turning circle: 31.3 ft

Brakes: 4-wheel disc with ABS, regenerative braking
Suspension: F/R: ind. MacPherson strut, anti-roll bar/ torsion beam, anti roll bar.

Traction: Electronic stability control

0-60 mph: 8.4 seconds
60-0 mph: 122 ft
Top Speed: 85 mph

EPA City: 122 mpg
EPA Highway: 108 mpg
Combined MPG: 116 mpg

Seating Capacity: 4
Safety: Advanced multistage airbags


Likes: Cute, sporty and fun to drive

Dislikes: Range, price

Check out other Fiat models

See all of our Automobile Reviews

Visit the Fiat website
Photography: AlphaMedia
Comments
comments
Flu season is upon us! Get proactive about your health with these all-natural immune system boosters from around the world.
Handcrafted using only the finest cocoa, GAYOT's Top 10 Chocolate Bars are a far cry from your typical checkout lane candy fix.