2014 Tesla Model S
Electric cars of the future are here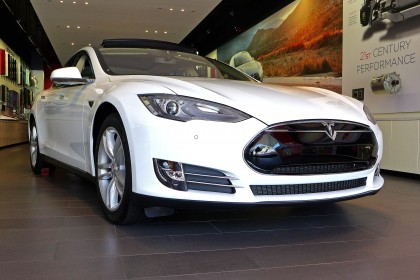 In short: A supermodel of an all-electric vehicle
2014 Tesla Model S Review
The Tesla Model S is a supermodel of a car: it's fast and it's smart and it's reserved for the happy few.
The base Model S has a 60 kWh battery that has a estimated range of 230 miles at 55 MPH. Optional batteries can boost power and range. Still, the Model S is both the most functional and most stylish of the current generation of EVs. Boasting significantly more range than other commercially available all-electric cars, the Tesla sedan represents company founder (and head of Space X) Elon Musk's gamble on the future of electric transportation. Whether it will pay off depends as much on outside market factors (the price of lithium, stock market fluctuations, etc) than on the car itself. But the car itself is a winner: with 260 kW versions returning up to 88 MPGe in the EPA's combined city/highway cycle and still able to accelerate to 60 mph in less than six seconds.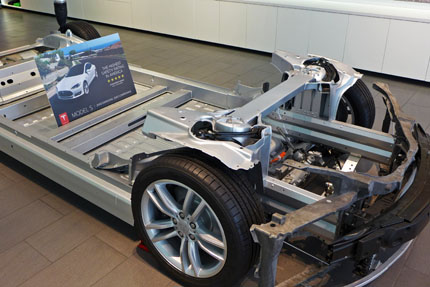 Performance versions of the Model S, equipped with the 85 kwH battery pack and a 416 horsepower, 443 lb ft AC induction motor, are even quicker, managing to hit 60 mph in about 4 seconds flat. Plus, thanks to the packaging of the batteries within the car's floor and the motor between the rear wheels, the Model S gains a sports-car like 17.5″ center of gravity and a 47/53% front/ rear weight distribution, making its handling feel responsive and capable despite its size.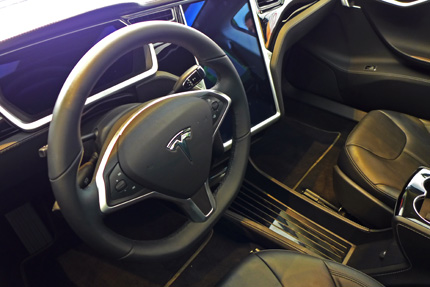 It's hard to consider the Model S independently of the single fact that everyone knows about it: it's an electric car. But the key factor in the Tesla's excellence is that it is one of the first cars in decades that doesn't feel limited by previous interpretations of what a car is and what it should do. The Tesla Model S, for example, is the first hatchback to offer three rows of seats. It sits as low to the ground as some sports coupes yet has over 63 cubic feet of cargo space, as much as some SUVs.
Warranty/Service: Four year or 50,000 mile, whichever comes first, new vehicle limited warranty; 60 kWh battery has an eight year or 125,000 mile, whichever comes first, battery warranty; Both battery warranties cover damage from improper charging procedures and battery fire, even if the fire results from driver error
Related content:

Looking to buy an all-electric vehicle?

You can click on each photo to enlarge
| | |
| --- | --- |
| QUICK SHEET | Base Price: $69,900 / As Tested: $79,820 |
Technical Specifications

Vehicle type: Rear-mounted electric engine, rear-wheel drive, 7-passenger, 5-door hatchback

Engine: Electric
Horsepower: 302 hp
Torque: 317 lb-ft
Transmission: Electric motor 1-speed direct drive

Curb weight: 4,647 lbs
Wheelbase: 116.5 in
Length/Width/Height: 196 / 77 / 56 in
Turning circle: 37 ft

Brakes: Anti-Lock disc brakes (ABS) with ventilated rotors and electronically actuated parking brake
Suspension: Double wishbone, virtual steer axis coil spring front suspension and independent multi-link coil spring rear suspension

Traction: Traction Control

0-60 mph: 5.9 seconds
60-0 mph: n/a
Top Speed: 120 mph

EPA City: 94 mpg
EPA Highway: 97 mpg
Combined MPG: 95 mpg

Seating Capacity: 7
Safety: Six airbags; rigid occupant cell; optimized front crumple zone


Likes: Design and Performance

Dislikes: Range and price of entry

Check out other Tesla models

See all of our Automobile Reviews

Visit the Tesla website
Photography: Tesla Motors
Comments
comments
Flu season is upon us! Get proactive about your health with these all-natural immune system boosters from around the world.
Handcrafted using only the finest cocoa, GAYOT's Top 10 Chocolate Bars are a far cry from your typical checkout lane candy fix.