2015 Cadillac Escalade
More of Everything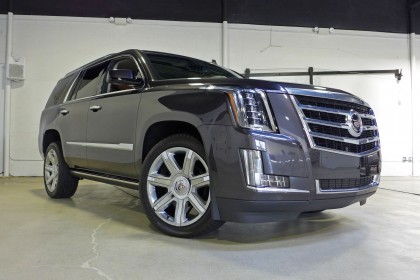 In short: A massive, powerful luxury SUV
2015 Cadillac Escalade Review
Redesigned for 2015, the Cadillac Escalade remains one of the largest, most luxurious people-movers on the planet. Ever the choice of towncar companies, upscale soccer moms and rappers, the Escalade continues to provide world-class comfort, smoothness and interior elegance. Just launched this April, the newest bling-mobile features more powerful engines and more advanced safety features, wrapped in a body that is ever-so-slightly wider, longer and taller than before. All this growth helps the 2015 Cadillac Escalade boast one of the most capacious interiors in the business, perfect for picking up those VIPs at the airport or getting ready in the back seat on the way to your album release party at the Chateau Marmont.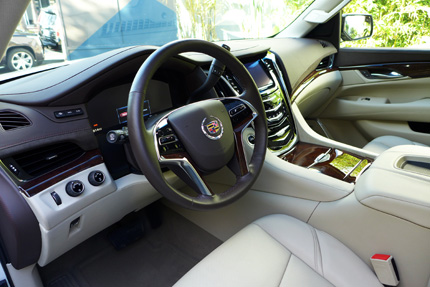 Powered by a 6.2 liter version of GM's ageless OHV V8, this truck-in-a-tux has plenty of torque and the thirst to match. AWD versions of the 2015 Cadillac Escalade are rated by the EPA at 14 MPG city and 21 highway. Luckily, no one buys an Escalade for its small carbon footprint or to save money on gas. In this age of downsizing engines and escalating CAFE requirements, the Escalade stands out as a defiant statement of American luxury. It may have the underpinnings of a GM truck platform, but the 2015 Escalade is 6,000 lbs of pure Cadillac.
Warranty/Service: Cadillac 4-year/50,000-mile1 Bumper-to-Bumper Limited Warranty with no deductible Cadillac 6-year/70,000-mile1 Transferable Powertrain Limited Warranty with no deductible for 2013 and newer models (5-years/100,000-miles1 for 2012 and older models). Cadillac 6-year/70,000-mile1 Roadside Assistance for 2013 and newer models (5-years/100,000-miles1 for 2012 and older models). Cadillac 6-year/70,000-mile1 Courtesy Transportation for 2013 and newer models (5-years/100,00-miles1 for 2012 and older models)
You can click on each photo to enlarge
| | |
| --- | --- |
| QUICK SHEET | Base Price: $67,970 / As Tested: $92,840 |
Technical Specifications

Vehicle type: Front engine, all-wheel drive, 5-door, seven passenger SUV

Engine: 6.2 Liter OHV V8
Horsepower: 420
Torque: 460
Transmission: 6-speed automatc

Curb weight: 6, lbs
Wheelbase: 116 in
Length/Width/Height: 203 / 80.5 / 70.4 in
Turning circle: n/a

Brakes: 4-wheel disc with ABS
Suspension: F/R: independent upper and lower control arm, coil spring, anti roll bar/ five link, coil spring, anti-roll bar

Traction: Electronic stability control

0-60 mph: n/a
60-0 mph: n/a
Top Speed: n/a

EPA City: 14 mpg
EPA Highway: 21 mpg
Combined MPG: 16 mpg

Seating Capacity: 7
Safety: 7-airbags, advanced driver assistance features


Likes: Luxury features, solidity, engine, safety

Dislikes: size, fuel economy, styling

Check out other Cadillac models

See all of our Automobile Reviews

Visit the Cadillac website
Photography: AlphaMedia
Comments
comments
Flu season is upon us! Get proactive about your health with these all-natural immune system boosters from around the world.
Handcrafted using only the finest cocoa, GAYOT's Top 10 Chocolate Bars are a far cry from your typical checkout lane candy fix.