2015 Chrysler 200C AWD
New style from Detroit, Italy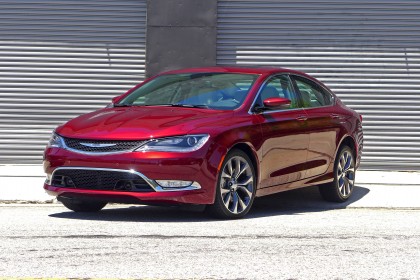 In short: A stylish, well appointed new midsize sedan
2015 Chrysler 200C AWD Review
Based on a version of the Alfa Romeo Giulietta platform, the new 200C is big news for Chrysler. With an available 295-horsepower V6 and all wheel drive, as well as a high quality interior, the 2015 200C is a vast improvement over its rental-car predecessor.
The product of a billion dollar investment by Chrysler/Fiat, the 2015 200C aims to lead a revitalized Chrysler brand back to relevance, starting with the vast family sedan market. The 200C will take on some of the best selling cars in America: Accord, Camry, Fusion- the very models that pretty much relegated last year's 200C to process-server duty and rental car lots. Anyone familiar with the 2014 Dodge Dart will feel at home in the new 200, as it rides on a stretched, stiffened version of the Dart's chassis. The 200C is not just an example of cost-cutting "brand engineering." No rebadged Dart, the new 200C is eight inches longer, has new steering and suspension hardware, and comes standard with a ZF 9-speed automatic transmission. That transmission, it should be noted, has more than twice as many gear ratios as the base automatic on the old Chrysler 200C. The 2015 model also boasts an available all-wheel drive system and a 295 horsepower V6, making the 200C so equipped the most powerful car in its class. The all-wheel drive, to save fuel, can run in front-wheel drive mode unless the system detects slip.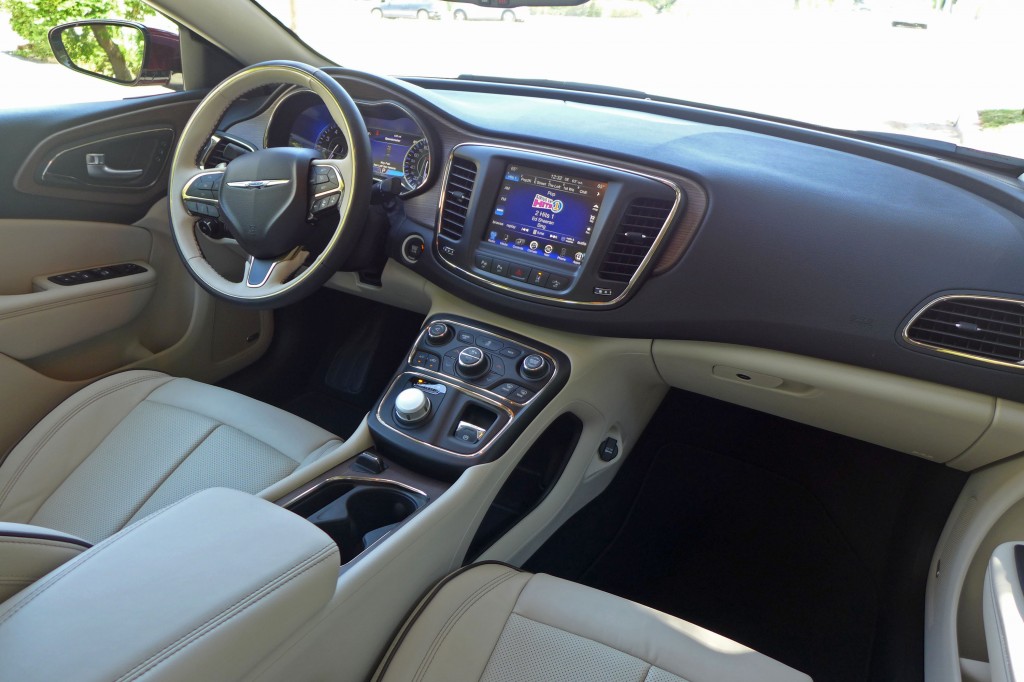 The new 200C's interior is also a big step up in quality and design. Marrying American and Italian design influences, the 200C cabin features wood or matte silver trim, available linen upholstery and headliners, and a large infotainment touch screen. Chrysler's UConnect interface remains one of the quickest and most intuitive on the market. Gear selection is by means of an interesting rotary knob rather than a traditional T lever. It's functional and easy to use.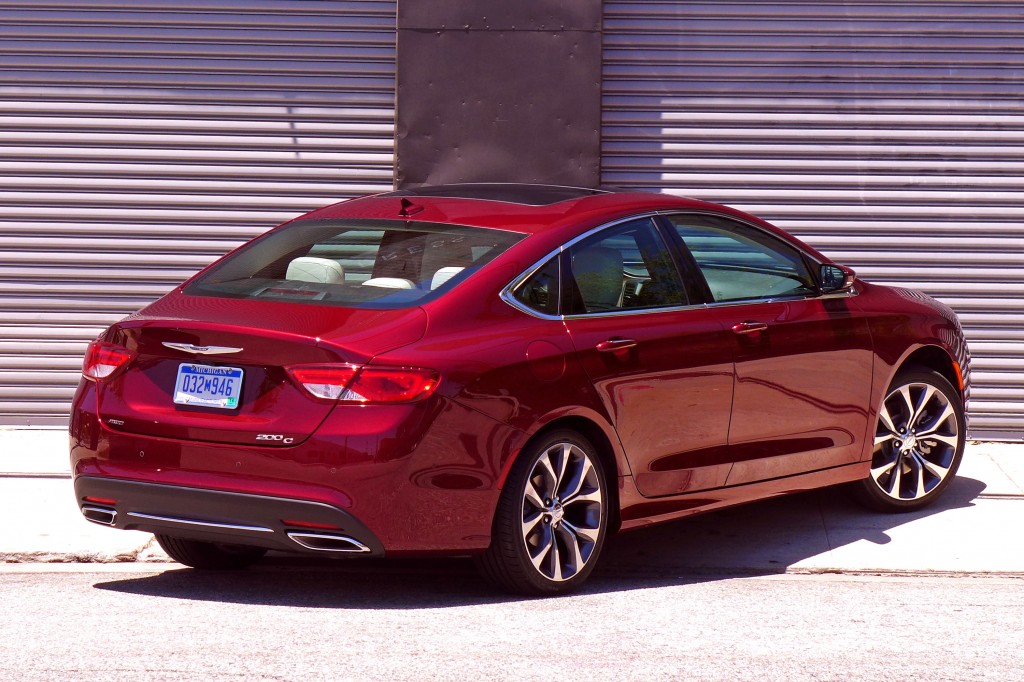 Overall, the new 200C is a car that reflects its Italian American origins, blending style, ample feature content and practicality. It should allow Chrysler to come a lot nearer the top of the class in this high-volume segment.
Warranty/Service: 5 year/100,000 mile powertrain warranty, 3-year/36,000 mile basic warranty, 5-year/100,000 mile roadside assistance.
Related content:

In the mood for a family sedan?

You can click on each photo to enlarge
| | |
| --- | --- |
| QUICK SHEET | Base Price: $30,195 / As Tested: $37,860 |
Technical Specifications

Vehicle type: Front engine, all wheel drive, five passenger, four door sedan

Engine: 3.6 liter DOHC V6
Horsepower: 295
Torque: 262
Transmission: 9-speed automatic

Curb weight: 3,7 lbs
Wheelbase: 108 in
Length/Width/Height: 192.3 / 73.7 / 58.7 in
Turning circle: 39.5 ft

Brakes: 4-wheel disc with ABS
Suspension: F/R: Ind. MacPherson strut, anti-roll bar/ Ind. multilink, anti-roll bar

Traction: traction and stability control standard

0-60 mph: 6.3 seconds
60-0 mph: 119 ft
Top Speed: 130 mph

EPA City: 18 mpg
EPA Highway: 29 mpg
Combined MPG: 22 mpg

Seating Capacity: 5
Safety: Advanced multistage front airbags, front seat-mounted side airbags, side curtain front/ rear airbags, driver and passenger knee airbags


Likes: Lux feel, great package

Dislikes: BRB

Check out other Chrysler models

See all of our Automobile Reviews

Visit the Chrysler website
Photography: AlphaMedia
Comments
comments
Flu season is upon us! Get proactive about your health with these all-natural immune system boosters from around the world.
Handcrafted using only the finest cocoa, GAYOT's Top 10 Chocolate Bars are a far cry from your typical checkout lane candy fix.