2015 Hyundai Accent GLS
| GAYOT Rating | |
| --- | --- |
Subcompact Price, Surprisingly Upscale Feel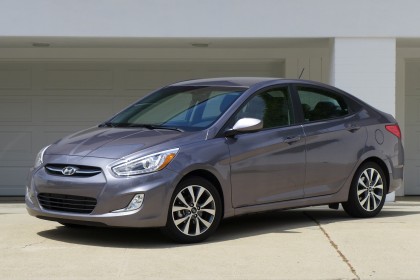 In short: Value-driven subcompact sedan
2015 Hyundai Accent GLS Review
The 2015 Hyundai Accent GLS reminds us of the feeling you get when you come across one of those occasional nice designer items that finds its way to the rack of an outlet store. It's definitely a subcompact, inexpensive sedan, but it seems like it was designed to be a more premium compact car and then later repackaged and discounted.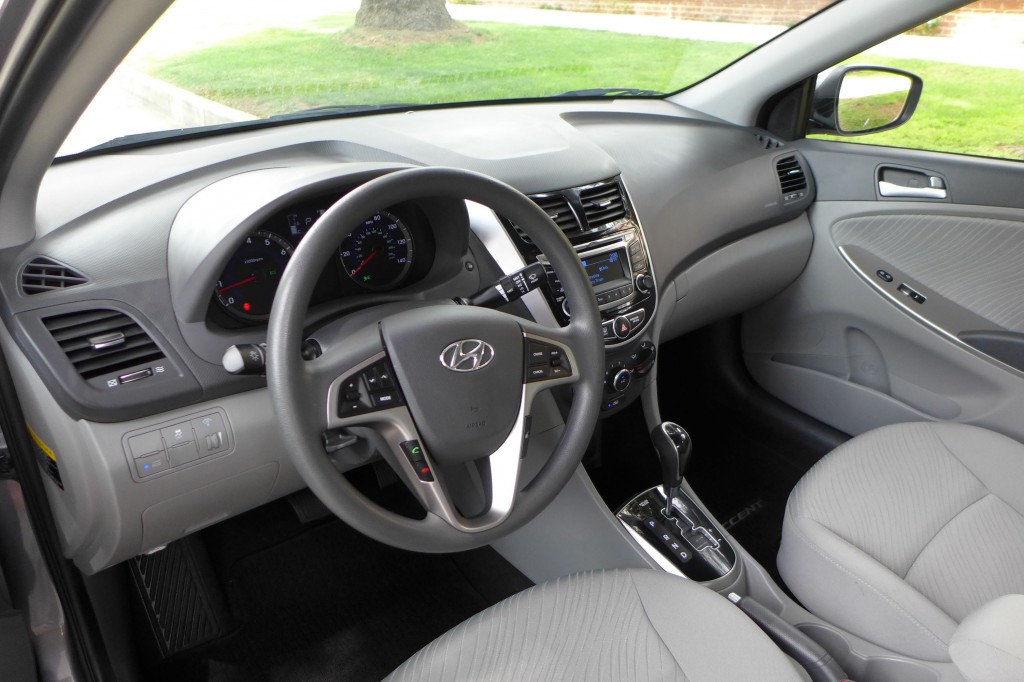 Its 1.6-liter inline 4 may not give blazing acceleration, but this direct-injected motor is smooth and eager all the way up to redline and would not feel out of place in a Mini Cooper or Mazda 3. Ride quality is also a surprise for this segment. The Hyundai Accent soaks up bumps and dips with a soft, but not floaty, suspension that almost makes it feel like a pint-size Buick. The comfort-biased springs do allow plenty of body roll in turns, and standard all-season tires limit the car's outright roadholding, but up to those limits the little Hyundai is fun to toss around.
The Accent GLS also packs lots of features for its price, even offering such upscale options as a back up camera and app integration for Android devices. Apple device integration is said to be coming in 2016, including a connectivity feature for the Apple Watch.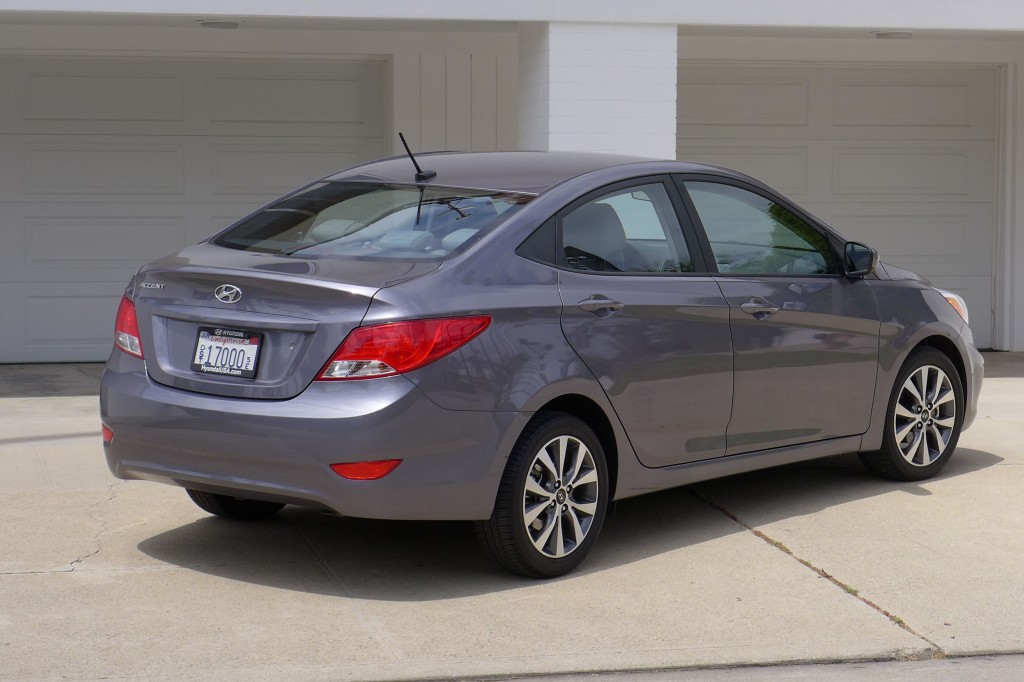 Fuel economy, at 30 mpg combined, was class competitive when this generation of the Hyundai Accent was announced as a 2012 model, but the class has moved on and rumor has it that Hyundai is considering a small forced-induction motor and a mild hybrid system for the next generation Accent. Still, for a new car that starts under $16,000, the Accent has plenty of upscale qualities. Among its only real demerits are a mediocre showing in IIHS small-overlap crash tests, which were introduced in 2014.
Warranty/Service: 5-year/60,000-mile basic warranty, 10-year/100,000-mile powertrain warranty, 7-year/unlimited-mile rust perforation warranty, 5-year/unlimited-mile roadside assistance
You can click on each photo to enlarge
| | |
| --- | --- |
| QUICK SHEET | Base Price: $15,745 / As Tested: $18,080 |
Technical Specifications

Vehicle type: 5-passenger sedan

Engine: 1.6-liter inline 4
Horsepower: 137
Torque: 123
Transmission: 6-speed automatic

Curb weight: 2,48 lbs
Wheelbase: 101.2 in
Length/Width/Height: 172 / 66.9 / 57.1 in
Turning circle: n/a

Brakes: Front and rear disc with ABS
Suspension: Front MacPherson strut

Traction: traction control standard

0-60 mph: 9 seconds
60-0 mph: 128 ft
Top Speed: 121 mph

EPA City: 26 mpg
EPA Highway: 37 mpg
Combined MPG: 30 mpg

Seating Capacity: 5
Safety: NHTSA: not rated. IIHS: Small Overlap: Poor, Moderate Overlap: Good


Likes: Value, cavernous trunk

Dislikes: n/a

Check out other Hyundai models
Visit the Hyundai website
Photography: AlphaMedia
Comments
comments