2015 Toyota Avalon Hybrid XLE Premium
| GAYOT Rating | |
| --- | --- |
Surprisingly lively hybrid sedan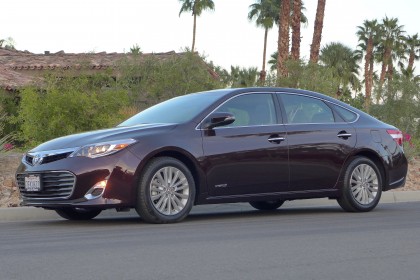 In short: Large, fuel-efficient family sedan
2015 Toyota Avalon Hybrid XLE Premium Review
The Toyota Avalon Hybrid pairs impressive fuel economy with a roomy, luxurious interior and plenty of high-end features. The gas-electric version of Toyota's large sedan is powered by a 2.5-liter, 156-horsepower four-cylinder combined with an electric motor to deliver 200 total horsepower through a CVT-type planetary gearbox. Acceleration is surprisingly lively, the Avalon Hybrid getting up to speed with noticeably more verve than the much smaller Prius or Prius c. The ride, as in all Avalon models, is soft and smooth, and the cabin remains library-quiet even at freeway speeds, thanks in part to the nearly silent hybrid powertrain.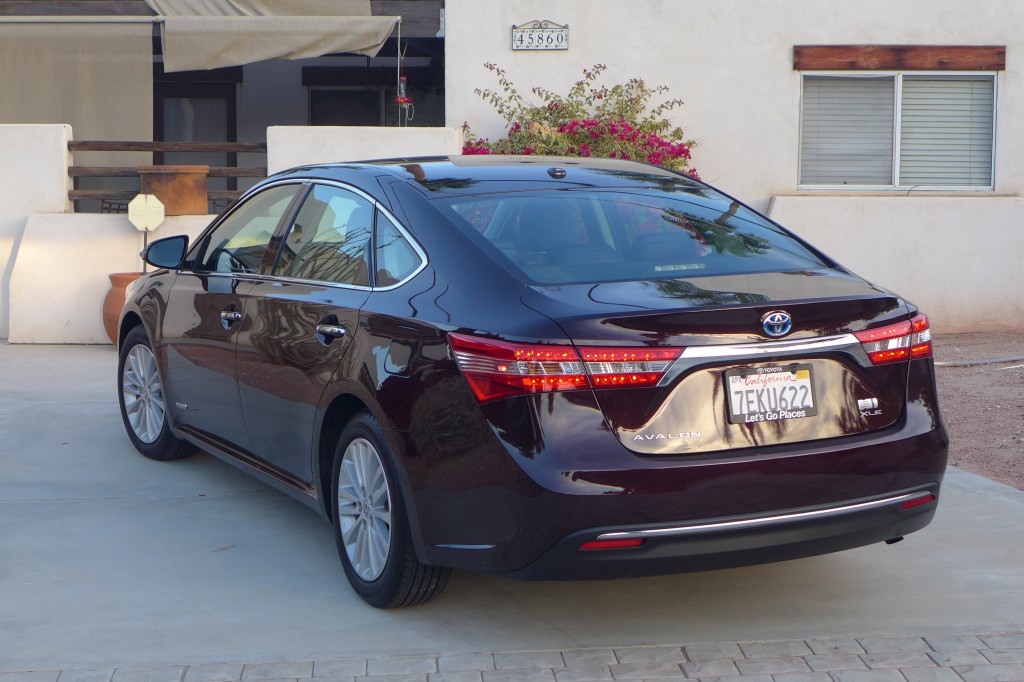 Quietness and a plush ride in a Toyota Avalon are no surprise, however, as the nameplate has always positioned itself as a kind of modern, Japanese Buick, or Lexus for the frugal. But whereas previous generations of the Avalon were floaty, sloppily-handling land boats, the 2015 Avalon Hybrid displays a refreshing willingness to change direction. The steering, while very light, is quick and accurate, throttle response is sharp and the brakes feel strong and linear. The hybrid system seamlessly switches between electric-only operation and gas/electric propulsion. With a very light right foot, it is possible to accelerate up to about 26 mph on battery-power alone.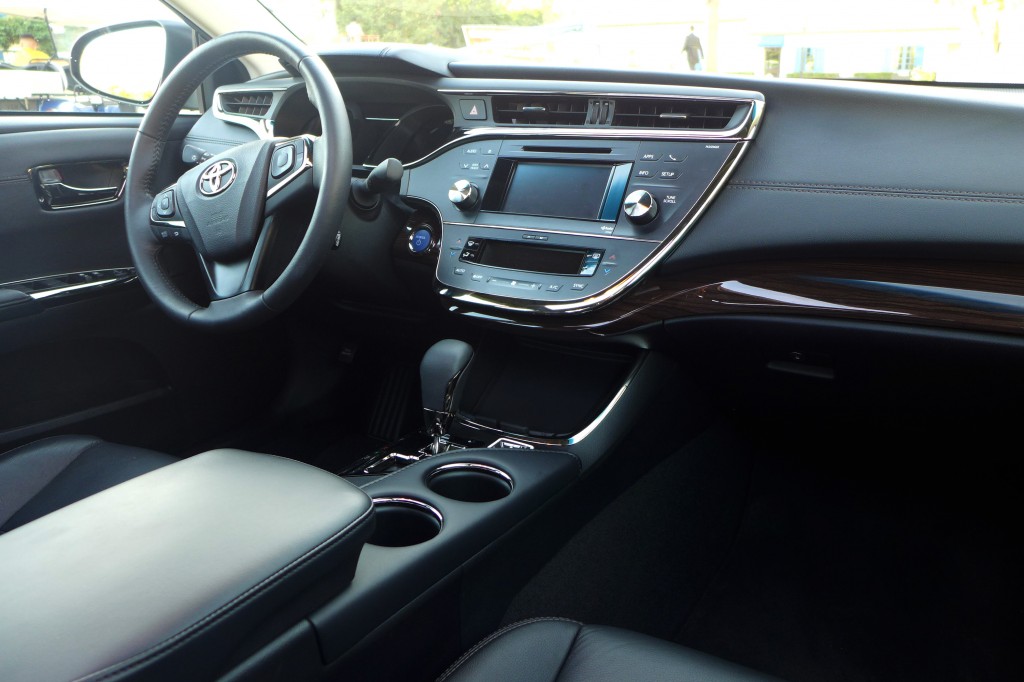 Accelerate past that speed or get on the gas a little more and the 4-cylinder engine comes to life with a muted hum. A display on the left of the dash, in place of the tachometer on non-hybrid Toyotas, tells you whether you are using power or charging the batteries. The Avalon Hybrid also features a clean and easy-to-use infotainment screen in the center of the dash; selectable displays include an energy-monitor similar to the one found on the Prius, a bar-graph of MPG history, navigation and audio screens. We found the Avalon's bluetooth integration worked well, though there was occasionally some lag when responding to inputs from the phone.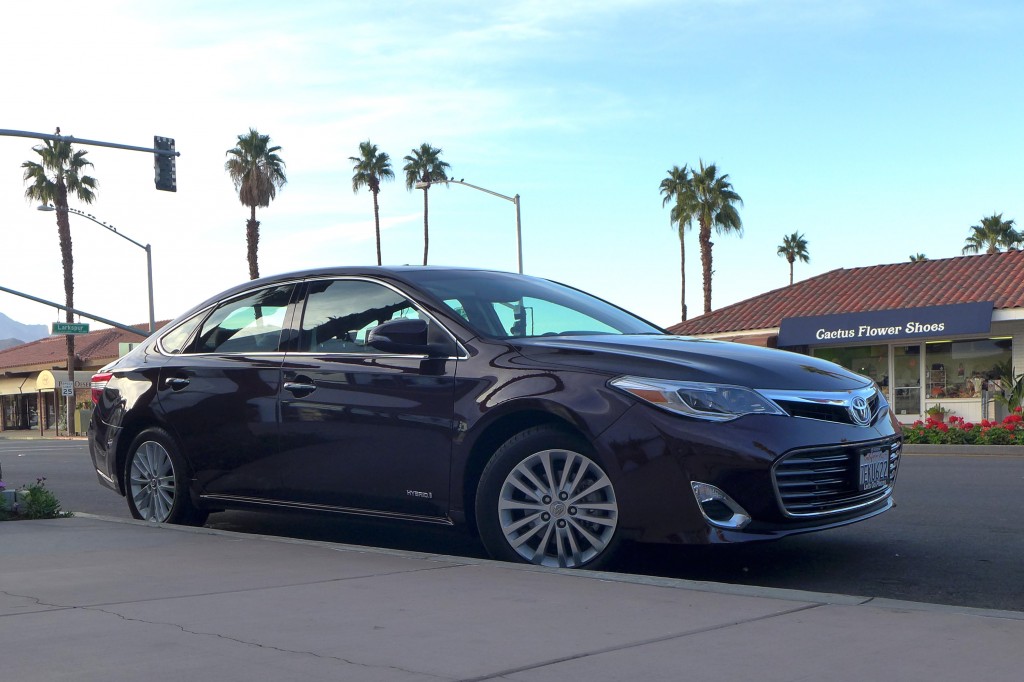 The Avalon Hybrid returned impressive fuel-economy for such a large heavy car. In fact, during one highway trip with a mixture of light traffic and stop-and-go, the Avalon showed 45.4 mpg, only about 1.5 mpg less than we recorded in a tiny, much-slower Toyota Prius c on a similar trip. In the city, the Avalon Hybrid averaged 36.5 mpg, still top-of-the-class for full-size sedans.
Warranty/Service: 3-year/36,000-mile basic warranty, 8-year/100,000-mile hybrid components warranty, 5-year/60,000-mile powertrain warranty, 5-year/unlimited mile corrosion warranty
You can click on each photo to enlarge
| | |
| --- | --- |
| QUICK SHEET | Base Price: $36,750 / As Tested: $37,890 |
Technical Specifications

Vehicle type: front-engine, front-wheel-drive, five-passenger, four-door sedan

Engine: 2.5-liter inline 4 hybrid
Horsepower: 200
Torque: 199
Transmission: CVT

Curb weight: 3,647 lbs
Wheelbase: 111 in
Length/Width/Height: 195.2 / 72.2 / 57.5 in
Turning circle: n/a

Brakes: Front and rear disc with regenerative braking and ABS
Suspension: MacPherson strut front; multilink rear

Traction: traction and stability control standard, traction control can be turned off

0-60 mph: 7.7 seconds
60-0 mph: 120 ft
Top Speed: 117 mph

EPA City: 40 mpg
EPA Highway: 39 mpg
Combined MPG: 40 mpg

Seating Capacity: 5
Safety: Not yet rated


Likes: Fuel economy, ride, quietness, interior room

Dislikes: Steering too light, difficult to find correct adjustment for seat comfort

Check out other Toyota models
Visit the Toyota website
Photography: AlphaMedia
Comments
comments