2015 Volvo V60 T5 Drive-E
Smart Station Wagon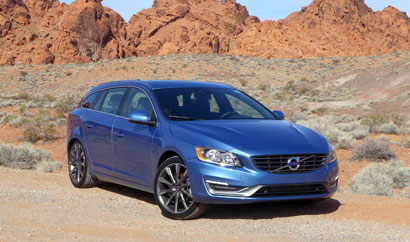 In short: A fuel-efficient, family-friendly station wagon.
2015 Volvo V60 T5 Drive-E Review
Volvo has come full circle and has decided that smaller is better… at least when it comes to engine displacement.

The company recently announced a brand-wide move to 4-cylinder propulsion. Volvos introduced after 2015 will all be powered by the newly developed turbocharged 2.0-liter modular engines, with gasoline, diesel and hybrid electric options for different trim levels. Outputs will match or exceed those of the older 5- and 6-cylinder engines, thanks to direct injection and higher turbo boost pressures.
The biggest advantage of the new engines, according to Volvo, is enhanced fuel economy. The 2015 V60 T5 Drive-E we tested, for example, gets an EPA-rated 25/37 mpg city/highway, a big improvement over last year's T5, and an impressive result for any 3500-lb car that isn't a hybrid or a diesel.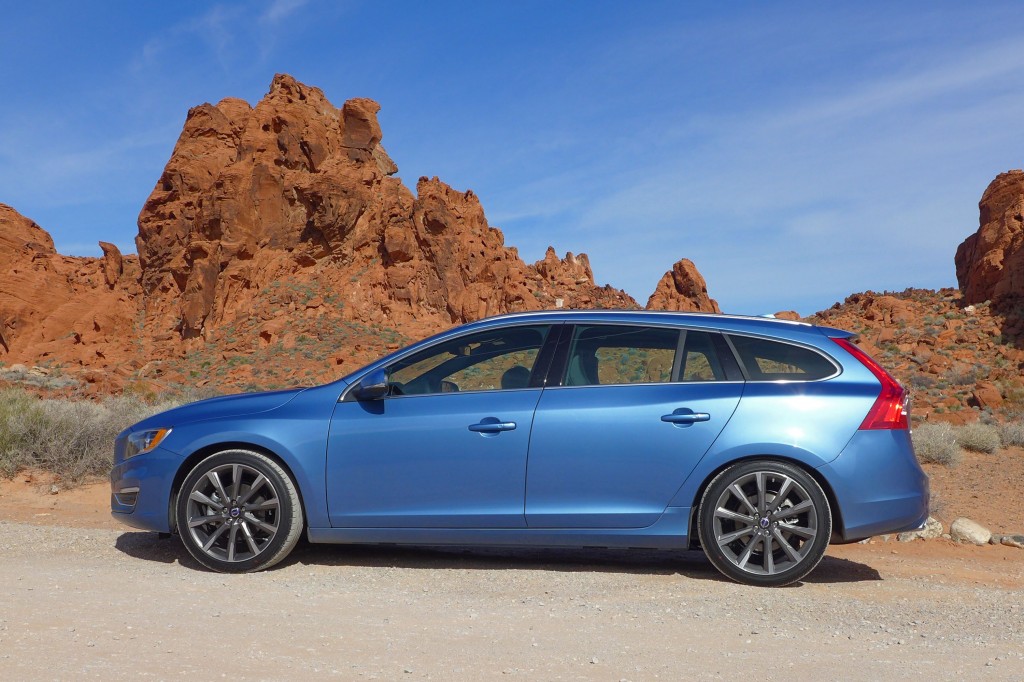 We loved driving the Volvo V60 in Las Vegas and through the Nevada desert. Not only did the turbocharged Drive-E 4-cylinder engine provide effortless power for accelerating and cruising, but we confirmed the new Volvo's lofty EPA-ratings, achieving 31.4 MPG combined over the course of our trip. Our metallic blue station wagon is designed to be eco-friendly (ULEV II) and features start-stop technology to further boost efficiency in the city. Transmission choice is limited to the ZF 8-speed auto, which to be fair is an excellent performer. The V60 offers most of the conveniences you'd expect in a modern wagon and the 40/20/40 split flat-folding rear seats provide some extra cargo flexibility. Despite the swoopy C-pillar, the cargo hold has 43.8 cubic feet of space. A rolling net makes the car extra useful for dog-transporting.
A major plus for the V60 as a family car is that it upholds Volvo's reputation for safety. Named a Top Safety Pick+ by the Insurance Institute for Highway Safety, the V60 comes standard with legendary Volvo safety systems such as City Safety.
The Volvo V60 T5 Drive-E is an excellent choice for city dwellers who need cargo utility but don't want the bulk of an SUV. It is perfect for families with kids and canines. The V60 T5 will also take all of your stuff on a road trip or camping expedition with plenty of pep.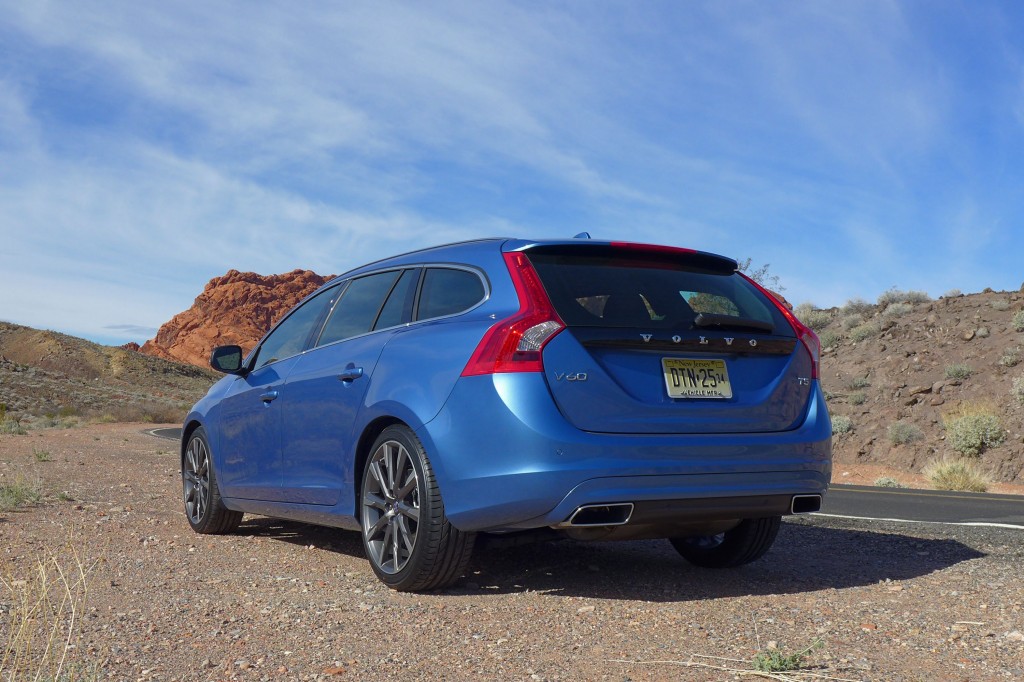 One of the only drawbacks of the new Drive-E powertrain? It means Volvo must now join BMW and Mercedes on the list of carmakers whose products have misleading alphanumeric names. Our V60's "T5″ badge, which once meant "Turbo 5-cylinder" is now a lie.
That said, the new wagon is good enough that we can easily forgive its pretentious name. With its combination of safety, fuel-efficiency, style and performance, the Volvo V60 Drive-E sets a high bar which we hope will inspire the rest of the auto industry to rise to the challenge.
Warranty/Service: Five-year/60,000-mile limited warranty; five-year/60,000-mile complimentary scheduled service and repair; four-year roadside assistance
Related content:

Top 10 Station Wagons

The story behind the Drive-E engine

Please take your dog with you

The 302-horsepower Volvo XC60 T6 Drive-E

You can click on each photo to enlarge
| | |
| --- | --- |
| QUICK SHEET | Base Price: $35,300 / As Tested: $42,225 |
Technical Specifications

Vehicle type: front-engine, front-wheel drive, 5-passenger, 4-door station wagon

Engine: 2.0-liter turbocharged 4-cylinder with direct injection
Horsepower: 240 hp @ 5,600 rpm
Torque: 258 lb-ft @ 1,500 rpm
Transmission: 8-speed automatic with manual shift mode

Curb weight: 3,527 lbs
Wheelbase: 109.3 in
Length/Width/Height: 182.5 / 73.4 / 58.4 in
Turning circle: 37.1 ft

Brakes: 4-wheel disc brakes with ABS
Suspension: front-engine, front-wheel drive, 5-passenger, 4-door station wagon

Traction: Dynamic Stability and Traction Control with advanced stability control and corner traction control

0-60 mph: 6.4 seconds
60-0 mph: n/a
Top Speed: 140 mph

EPA City: 25 mpg
EPA Highway: 37 mpg
Combined MPG: 29 mpg

Seating Capacity: 5
Safety: dual-stage front airbags; front side airbags; side curtain airbags


Likes: Quality build, utility and fuel efficiency

Dislikes: AWD not yet available with 4-cylinder engines

Check out other Volvo models

See all of our Automobile Reviews

Visit the Volvo website
Photography: AlphaMedia
Comments
comments
Flu season is upon us! Get proactive about your health with these all-natural immune system boosters from around the world.
Handcrafted using only the finest cocoa, GAYOT's Top 10 Chocolate Bars are a far cry from your typical checkout lane candy fix.