2015 Volvo XC60 T6 Drive-E Platinum
| GAYOT Rating | |
| --- | --- |
Scandinavian Crossover Boasts Advanced New Engine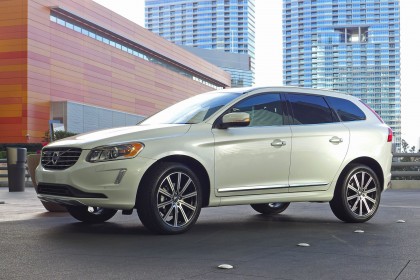 In short: A luxurious and technologically advanced crossover
2015 Volvo XC60 T6 Drive-E Platinum Review
For 2015, Volvo's luxurious crossover gains a new high-tech engine and a longer name. The XC60 receives minor updates to the interior and exterior as well, but the big news is Volvo's new "Drive-E" powertrain. Aimed at streamlining production, all of Volvo's Drive-E motors will share a common architecture and 2.0 liter displacement. These engines will replace the five and six-cylinder mills currently used in the S60, V60 and other models, but will retain Volvo's T5 and T6 designations. For the T5 version, the Drive-E motor will have a single turbo and be tuned to produce 241 horsepower.
The big news for our T6 version, however, is an engine that uses both a supercharger and a turbo, the only "twincharged" motor of its kind currently on sale in the US. Yielding over 300 horsepower and 295 lb/ft of torque, available from 1400 to 4000 RPM, this engine uses the crank-driven supercharger to boost low-end torque and account for turbo lag, then switches over to the more efficient, exhaust-driven turbocharger at higher RPMs, once that turbo has had time to spool up. This strategy allows for a small engine with a big turbo, a combination which otherwise would suffer from turbo lag and overly peaky power delivery. The advantage to the small engine displacement is that it pays big dividends in fuel-economy. Volvo says this new motor in the XC60 T6 Drive-E, backed by an 8-speed automatic, boosts fuel efficiency over last year's XC60 T6 by 5 mpg on the highway and 6 mpg in the city.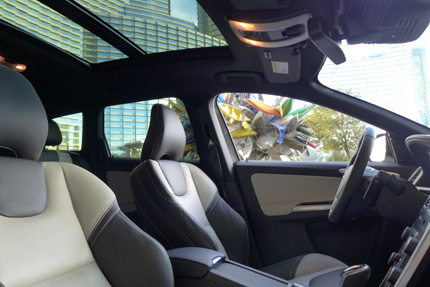 Featuring all of today's de rigeur efficiency technologies, from variable cam timing to stop-start and electric power steering, the 2015 Volvo XC60 T6 Drive-E is rated at 24 mpg city/ 31 highway, pretty impressive for a crossover with 302 horsepower.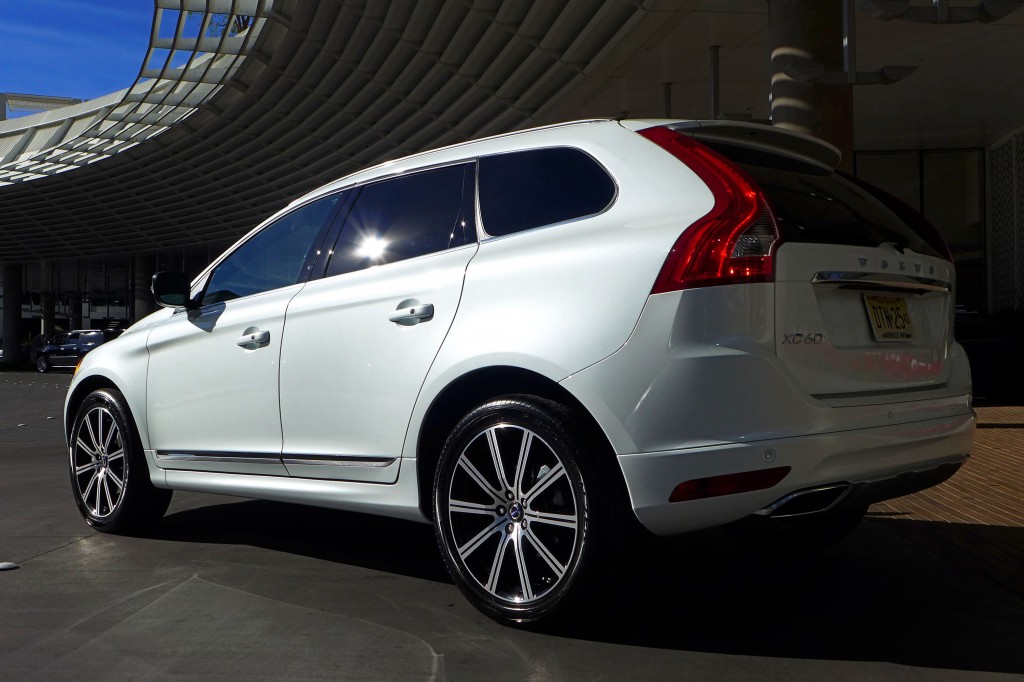 Initially the 2015 Volvo XC60 with the Drive-E motor will be available in front-wheel drive form only, but an all-wheel-drive system is said to be on the way, as is a hybrid version, possibly with electric motors supplying thrust to the rear wheels.
Warranty/Service: 4-year/50,000-mile basic warranty, 4-year/50,000 mile powertrain warranty, 3-year/30,000 mile scheduled maintenance
Related content:
The story behind the Drive-E engine
Looking for something smaller? Check out our review of the new 2015 Volvo V60 wagon
You can click on each photo to enlarge
| | |
| --- | --- |
| QUICK SHEET | Base Price: $40,500 / As Tested: $48,000 |
Technical Specifications

Vehicle type: Front engine, front wheel drive 5-passenger, 5-door crossover

Engine: 2.0 liter turbo and supercharged DOHC inline 4
Horsepower: 302
Torque: 295
Transmission: 8-speed automatic

Curb weight: 4,1 lbs
Wheelbase: 109.2 in
Length/Width/Height: 182.8 / 74.4 / 67.4 in
Turning circle: 38.4 ft

Brakes: F/R: Vented disc/ vented disc with ABS and EBD
Suspension: F/R: Ind. MacPherson strut, anti-roll bar/ Ind. multilink, anti-roll bar

Traction: Advanced traction control

0-60 mph: 6.1 seconds
60-0 mph: 120 ft
Top Speed: 122 mph

EPA City: 24 mpg
EPA Highway: 31 mpg
Combined MPG: 27 mpg

Seating Capacity: 5
Safety: Volvo City Safety, Lane Departure Warning, Collision Warning with Full Auto Brake, Pedestrian and Cyclist Detection, Driver Alert, Advanced airbags


Likes: Acceleration, ride, fuel economy, safety

Dislikes: Noise, torque steer

Check out other Volvo models
Visit the Volvo website
Photography: AlphaMedia
Comments
comments